You can only use packages at your current VIP level or lower – New being the lowest and Diamond the highest. (You can view your VIP in the VIP Store) (For example, once you've become a Bronze level member of the VIP Club, you will then be able to use the Bronze package. If you have collected 400 VIP Points, you can redeem the 400 VIP Points into £10 of bonus money.)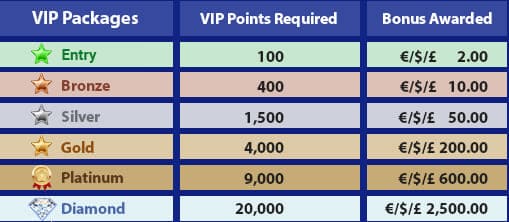 Redeem your VIP Points into bonus money at the VIP store! Use the packages offered in our VIP Store, and redeem your available VIP points into bonus money, again and again. The more points you collect - the higher your cash bonus!
 Please see "VIP Points" for more information.
*According to your VIP level.